Overview / who we are
Audiokinetica is a union of free, creatively active and energetic people. Thanks to our unlimited creative potential we generate ideas that seem unreal at first, but after awhile they come to life thanks to inquisitive minds, skills and talents of our musicians, artists, engineers and producers.
We have been making our audiovisual art since 2007 and this is a long list of succeeded projects.
Production / what we are doing
We make different kinds of projects in the field of kinetics, music, theatre and visual art. We inspire and bring people of different cultural backgrounds together, create possibilities for international exchange, popularise theatre and musical heritage. We mix visual art, author music and documentary. We collaborate with neural network models and musicians. We are interested in society and it's growth nowadays. We ask questions about social identity and try to find answers together with the audience. We create space for sharing ideas and make these ideas come to life.
Goals / why we are doing it
The purpose of our performances is to give the audience the possibility to feel themselves as important and integral part of the technological progress, also to try themselves in a role of a musician, an artist, an engineer. We are open for the new opportunities. We would like to learn something new and interesting, something about our today's culture. Our world develop so fast and we would like to keep ourselves up-to-date what is happening around and talk to audience about it through our performances. This is the purpose why we keep asking questions and never stop looking for the answers.
Specifications / how we are doing it
We work with different international and local artists in collaboration with creatives and professionals in their field. We use only author music, professional musicians, actors, dancers, directors, engineers and designers. Our team members are obsessed with culture, music, visual and performing art. We make performances with strong love and passion.
Next project coming soon: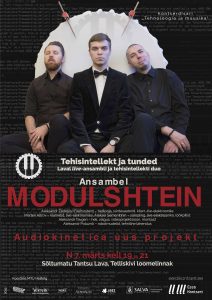 Next IDEM we play 28.08 in Vienna